Update 10:45 a.m. Wed 10th October 2012
I have just received a tracking notice from the courier with delivery scheduled for Friday! That's better!
Not the best of first impressions of quality control or customer service from 3 Legged Thing to be honest.
It was a great deal, free T-shirt, free spikes, free Stonebag and free shipping! However, the tripod has developed a couple of slack legs and no amount of tightening is keeping them tight. I sent an email via the company's support form, but didn't receive any response, so I called them after work.
The annoying response was that my unused, brand new 3 Legged Thing tripod would need to be collected and taken back to the factory for service and repair – no automatic replacement offered, no "oh, we're sorry to hear that"… probably just a wait until after the weekend to get my tripod back. Now, why the hell should I need to have something that is brand new repaired? That sucks!
The company has a nice 5 year warranty. It states:
In the first 90 days we will automatically replace your product with a brand new one. Thereafter it will be assumed that this is a fault that has developed through use and we will arrange for your product(s) to be collected.
I don't seem to be the only person experiencing problems with loose legs:
Used one 2 weeks ago for 10 days. I had major problems with the legs as they kept coming lose and had to use the hex key every time I pulled it out to tighten the legs up. Made for a real pain in the ass to use, esp if you wanted to break it out and use it real quick. I want to have my tripod set up in less then a minute, not 5min which was what it was taking. In the end I ditched it 1/2 way through and just went back to my old tripod.
A member of the 3 Legged Thing team responded with this:
@T-roy – if you had a problem with one of our tripods you should have emailed us. Since we were the first manufacturer to offer a five year warranty across our entire range of products, it would be remiss of us to do so with "poor construction and functionality with the legs". Drop us a line from the website and we will arrange to swap it out. We do this at our expense and usually within 48 hours. Apologies that you have a faulty one – it's very rare.
This is not the same warranty I'm receiving, it would seem! My brand new tripod has to go back to where it came from in Stagsden, and then return to me in Caithness! It is NOT being swapped out.
BlackRapid FastenR Tripod/3 Legged Thing Compatibility
Whilst waiting for a response about the tripod leg I decided to enquire on their Facebook page about my BlackRapid FastenR Tripod FR-T1 not attaching to the QR plate of the 3 Legged Thing AH1 AirHed ballhead properly… no response… so I sent an email. I received a response at around 6:15 pm asking me to take a photo of my FastenR as some of them don't play nice with the 3 Legged Thing QR plates.
Hi Gordon

I understand you've spoken to Chris today and we're collecting your tripod to have a look at the legs.

Regarding your problem with the Blackrapid fastener, there are a couple of designs and you may have a version that won't play nicely with our plates. Is it possible that you can take a picture of the side of the bolt so we can see the overall length and the thread length. We can probably work out which version you have from there, and look at getting it sorted for you.

Regards

Sean
Great! This was one of the real selling points for me, that and the fact that this company was British, and they look fantastic!
My response was this:
Hi Sean,

Here is a better photo of the bolt taken with the 5D MKII. I've placed it next to the one I received with the AH1 AirHed for comparison.

Is there any way I can have these things sorted out and my tripod back before the weekend (bearing in mind I live in the northern highlands of Scotland)?

Your warranty states "In the first 90 days we will automatically replace your product with a brand new one. Thereafter it will be assumed that this is a fault that has developed through use and we will arrange for your product(s) to be collected." – but my tripod is having to be collected and repaired after only one day of ownership, as opposed to being replaced automatically.

I don't mean to complain so much, but I really do need it, and after ordering it on the 4th getting it back after this weekend is a really long time to have to wait to make use of something I've paid for.

Anyway, look forward to hearing from you.

Gordon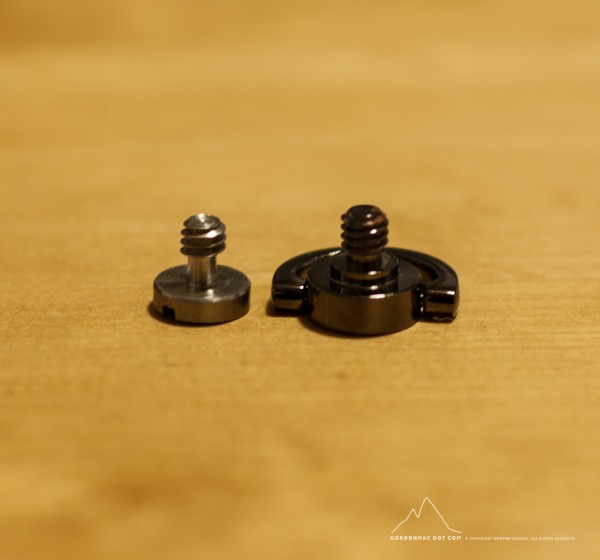 So, all in all – so far I am not too happy with my decision to buy British, it doesn't look like it has done me any favours. I know £200.00 isn't a lot for a tripod, but it is to me. In the meantime I'll be using my well-constructed, if elderly, Gitzo Tatalux!
I hope I will have something more positive to write the next time I speak about my 3 Legged Thing tripod, I love the features, I love the way it looks – I'd just like to have one that works!