I have loads of pictures of the Old Lifeboat Shed in Wick, in fact it is one of my favourite subjects, but oddly I very few images of the current Wick Lifeboat, the Trent Class Roy Barker II (14-20).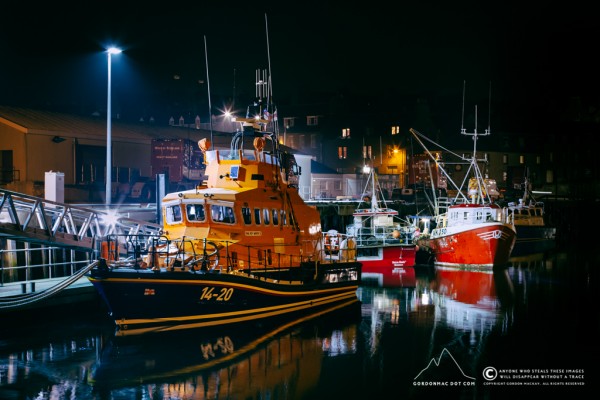 I didn't know much about the Roy Barker II until I read about it tonight after taking the photo. I was interested in where the boat got its name:
Wick Lifeboat is named Roy Barker II after Roy Barker, who made his money in farming and livestock, was a keen seafarer in his leisure time and a great supporter of the RNLI.  When he died at the age of 82, he gave the RNLI the largest bequest that the Institution has ever received.  The money (£6.5m stg) is invested in an endowment trust and the interest should be sufficient to fund a new lifeboat bearing his name every few years.   Trent class lifeboats Roy Barker I and Roy Barker III are on station at Alderney in the Channel Islands and in Howth Ireland. The Trent class lifeboat is designed to lie afloat, either at deep-water moorings or at a berth. Introduced in 1994, it shares the same hull shape as the Severn class but is a smaller version. The sheerline sweeps down for ease of survivor recovery. As with the Severn, its propellers are protected so it can take ground without damage.
If you'd like to read some more about the RNLI in Wick, they have a very informative website. The RNLI is a great cause, and you can help them out by either making a donation or becoming a member. To find out more about the ways in which you can help visit the RNLI website.