A short work week followed by a nice weekend.
The week started with the bank holiday and a quick wander round the town in the morning, which resulted in a small handful of photos I was quite happy with! Bank holidays are nice, but unfortunately Kirsty doesn't get them… the joys of working in the retail industry!
Photography-wise I have rediscovered long exposure photography. It's great fun waiting for a 200+ second exposure to complete so you can see how your slow-baked image turns out. Finding stationary objects in water is quite simple around Wick, we are right on the coast with a fantastic harbour, which never fails to give me something worth shooting.
Other places in the vicinity are also ideal for long exposures and I was out at Keiss Harbour twice last week, on one trip I managed to photograph a Great Northern Diver, not a great photo by any means, but nice to see the bird!
Saturday was a fairly lazy affair – some wine, some TV, some more photos… normal and nice :)
Dieter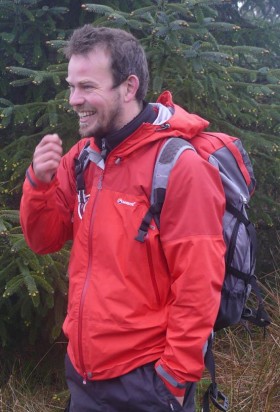 Sunday was the day for our friend Dieter's memorial event. Dieter died back in December of a heart attack, aged 38. He was a much-loved Countryside Ranger whose work put him in touch with a great many children and adults in Caithness, including Kirsty and I.
Dieter was from Belgium, he moved to Scotland with his partner, Kune. They lived in Aberdeenshire for some time and then moved to Caithness and built their own house, where they lived with their two children, Arden and Frodi.
We have been on a few memorable walks with Dieter. The most memorable one was a very wet slog from Dunbeath to Berriedale along the tops of the cliffs. Dieter believed the best and most memorable walks were the ones where you got soaked – people always remembered those :) I definitely remember that one – it was an assault course of barbed wire fences slippery dry stone dykes and amazing coastal scenery!
Dieter's popularity was reflected in the huge turnout of friends who attended his memorial day at Dunnet Beach and Forest yesterday. It wasn't a sombre affair at all, it was a celebration of Dieter's life, and an opportunity for his friends in Scotland to pay their respects.
The afternoon started with a seashore sculpture event, which everyone seemed to enjoy – adults and children alike! Then there was a Humanist Service on the beach and refreshments. The celebration ended with storytelling/music provided by Bob Pegg in Dunnet Forest's new log cabin.
It was amazing!
Finally, the photos